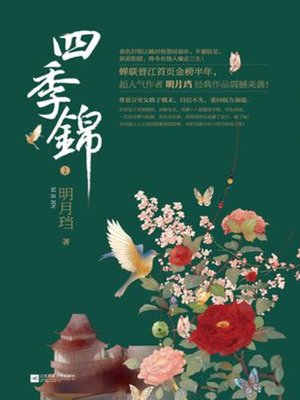 No of Episodes: 306 + 2 epilogues
Author: 明月珰 (Ming Yue Dang)
Female Voice: 第101个声音
Comments:
Interesting story set-up.   FL relive again not as her own self but in the body of another girl.
Summary:
A Wu (FL) is the daughter of Chang Princess.  But she is a sickly and died young.  After she died, her spirit wandered around the palace for many years.  Then one day, she woke up in the body of a 8-year-old girl named Rong Xuan, who is the 6th missus of the An Guo Gong.  FL's father (Rong Jin Chang) born by a concubine hence his low status in the family.  Furthermore, he failed to pass the government examinations a few times.  
Rong Xuan is the apple of her parents' eyes.  FL no longer live in luxury like her past life even though she has loving parents.  FL has two older brothers named Rong Jie and Rong Yin.  FL slowly adapted herself  in the Rong's family. 
One night, Rong Jin Chang brought his children out to the town.  FL almost got kidnapped but luckily she bumped into Chu Mao.  FL did not like Chu Mao but since her life was at stake, she asked Chu Mao to help her.  FL remembered her past life that Chu Mao eventually ascended the throne and took revenge against those opposed him.  Chang Princess was one of those who opposed Chu Mao.
FL wanted to make changes so she could live comfortably.  First, FL helped her father passed the government examination.  Next, she suggested her mother to start her own business to fund their own expenses instead of relying on the family's allowance.  After Rong Jin Chang passed the exam, Old Madam Rong purposely find trouble to suppress Rong Jin Chang and his family.
FL went to a party.  A nobleman's missus humiliates FL.  FL purposely cried to get everyone's attention and turned it around passing the fault to the missus who made her cried.  When FL got home, she got punished by Old Madam Rong and banned her from going out.  FL befriended Tang Yin during the party and when Tang Yin heard that Old Madam Rong banned FL from going out, she spread rumour that Old Madam Rong bullied his stepson and his family.  Old Madam Rong gave up.
When the Rong family received a party invitation, FL purposely said she didn't want to go and gave the excuse that she has no accessories.  Rong Wu (FL's cousin sister) offered her own accessories to FL.  FL does not really like Rong Wu.  She sense that Rong Wu was not sincere hence she purposely picked the most expensive accessories to test Rong Wu.  To her surprise, Rong Wu did not turn back her words and insisted FL to take it.
During the party, FL realised Rong Wu set a trap for her.  Everyone thought FL pressured Rong Wu to give her the accessory.  FL turned it around telling everyone that Rong Wu lend it to her knowing she has no accessories.  Tang Yin stepped in to side FL, saying she will give a few of her accessories to FL so that she does not need to borrow from anyone.
Chang Princess came to the party.  FL excited to meet her mother but got disappointed when Chang Princess ignored her.
Tang Yin invited FL to her birthday party.  FL painted a picture of ducks to give to Tang Yin as her birthday present.  Tang Yin only invited a few girls to her birthday party.  Gu Xi Hui, who was FL's cousin and playmate in her past life was one of Tang Yin's invitees.  Gu Xi Hui looked at FL in surprise when she saw the painting.  Gu Xi Hui noticed FL's painting technique looks like Kang Ning Jun Zhu.  FL made another painting in front of the girls to prove that she can paint very well. 
Towards the end of the party, the girls talked about the most good-looking boy in town.  The girls like Tang Yu and Gu Ting Yi.  Tang Yin commented that Chu Mao, the 4th Prince is the most handsome.  The girls decided to sneak a peek at Chu Mao.  Chu Mao found out and threatened to punish them.  FL came out with an excuse to save all of them from being punished.
Old Madam Rong and her two daughter in-laws started another evil plot.  They gave Rong Jin Chang a new concubine (Wang Shi).  FL noticed that Wang Shi was trained professionally by an organisation to give away to the noblemen for sexual pleasure.  Cui Shi (FL's mother) got extremely unhappy and it slowly affected her health.  FL does not understand why Cui Shi took it so seriously knowing that it was common for a man to have a few wives.  FL wanted to find out what Wang Shi did to attract her father's attention.  So, one day, FL sneaked into Wang Shi's room to peek at them.  FL got traumatized after that night. 
FL wanted Cui Shi to recover hence she got rid of Wang Shi when Rong Jing Chang was away from home.  Wang Shi slept with 2nd Master Rong and then with 1st Master Rong.  When 2nd  Madam Rong found out about Wang Shi's affair with her husband, she locked Wang Shi up and planned to beat her to death.  FL helped Wang Shi escaped to get help from 1st Master Rong.  1st Master Rong kept Wang Shi outside the Rong residence as his mistress.
1st Madam Rong got her family's contact to arrange Rong Jin Change on an overseas assignment.  They hope that Rong Jin Change would not survive in his assignment.  Cui Shi went into depression ever since Rong Jin Change left for his overseas assignment.  FL took over the management of the household and found a woman to help her to expand the needlework business.     
Rong Jin Chang safely returned 2 years later.  Rong Jin Chang got assigned to another post in the South province and he took his family with him.  They returned to the capital city 2 years later.  FL has turned into a beauty when she returned to capital city.
FL did not want her family controlled by Old Madam Rong hence she plotted to get Rong Jin Chang to separate from the Rong Family.  The opportunity came when FL's eldest brother, Rong Jie's essay got replaced with his cousin brother and Old Master Rong asked Rong Jin Chang to let it go.  Rong Jin Chang was not happy because it affected Rong Jie's future.  Rong Yin not happy with the unfair treatment.  Rong Yin went to beat his cousin brother.   Rong Yin left home to learn martial arts at Wu Dong.  FL refused to give in and got Rong Jie a chance to study under the famous Professor.  Then, FL spread the news that Wang Shi slept with all the Rong brothers.  1st Master Rong's title got revoked.   Old Madam Rong worried that Rong Jin Chang might fight for the Shi Zi title hence asked Rong Jin Chang to leave the Rong's family.  All these went according to FL's plan.
Everyone surprise when the Emperor gave Rong Jin Chang a new residence.  Most tried to distance themselves from Rong Jin Chang and his family.  Tang Yin remained close to FL despite what happened in the government.
FL's second brother, Rong Yin returned from learning martial arts at Wudang.  Rong Yin fell in love with Tang Yin.  FL knows Tang Yin likes Gu Ting Yi and worried that her brother might get disappointed.  Rong Yin got a job as royal guard and became close friend with Gu Ting Yi.  Rong Yin finds Gu Ting Yi matches his sister hence he created opportunities for them to meet.  Gu Ting Yi got attracted to FL and despite warning from Chang Princess that FL is an opportunist.    
Rong Jin Chang worried that his family might get implicated if 5th Prince or 6th Prince becomes the next Emperor hence he started to plan.  During a royal hunting trip,  two things happened.  Rong Yin saved Tang Yin from an accident and Rong Jin Chang got picked as Chu Mao's tutor.  Master Tang has no objection initially to Rong Yin marrying Tang Yin.  But after Rong Jin Chang got picked as Chu Mao's tutor, Master Tang changed his mind. Rong Yin refused to give up. Tang Yin has fallen in love with Rong Yin.  Tang Yin persuaded FL to speak with Tang Xiu Jin to help them.  Tang Yin knows her brother likes FL and might listen to FL.  Tang Xiu Jin agreed to put in a good word with his parents to get them to change their mind.  Cui Shi and Rong Jin Chang also found a wife for Rong Jie.  Next, Rong Jin Chang started to look for a husband for FL.   Rong Jin Chang found a potential husband for FL in another province.
When Gu Ting Yi heard about it, he suggested FL to marry him.  FL told Gu Ting Yi, she was his sister in her previous life.  Gu Ting Yi believed only half of FL's story.  Chang Princess refused to believed FL and hated FL. 
The Emperor picked FL as Chu Mao's main wife.  He Pei Chen and Tao Si Yao got selected as Chu Mao's side concubines.  Gu Ting Yi joined the military and left the city to recover from his heartbreak.
FL married Chu Mao.  It was a marriage in convenience for both.  FL has "sensory defensive" sickness.  FL does not like people touching her.  FL remembered ML was like her too.   FL gave up the management of the household to ML's nanny, Hao Momo.  Hao Momo has an adopted daughter named Xiang Si who is in love with ML.  FL remembered in her past life that Xiang Si was one of ML's Consorts. 
FL regretted her decision to give away her power to manage the household.  FL was very careful when she was with ML and tested ML a few times.  ML started to fall for FL.  ML's patience got tested when he found out FL spied on his every move.  FL got punished by Hao Momo to watch a Eunuch beaten to death. 
FL fainted and went into coma.  Everyone shocked because they never expected that it gets so serious.  Three doctors who came to see FL asked the servants to prepare the funeral arrangement.  When ML found out about FL, he rushed to her room.  ML fed FL medicine with his mouth.  When he heard from the servant that FL might be affected by evil spirit, he invited a famous monk to chant Buddhist sūtra for FL.
FL woke up 7 days later.  ML took care of FL when she was in coma.  FL and ML relationship got closer but still they did not consummate their marriage.  FL noticed ML has changed.  ML agreed that Xiang Si to marry someone away from the city.   ML found out FL's phobia in sex and went to see Cui Shi.  Cui Shi scolded FL and yet could not tell what she heard from ML. 
ML got assigned to lead the battle to fight in the north.   ML did not want to leave FL alone in the capital city hence he brought her with him.  ML won the war.  But he did not get any welcome when he returned to the capital city.
FL's servants updated FL what had happened when she was away.  One of ML's concubines, Shun Gong Yi Niang had an extra marital affair and now pregnant with her lover's baby.  Hao Momo locked Shun Gong Yi Niang for FL to decide what to do.  ML's cousin sister, Yan Ru Meng came to seek shelter with ML.  After FL met Yan Ru Meng, she understood Hao Momo's real intention.  Xiang Si told FL that Yan Ru Meng looks like ML's mother and purposely hinted the potential of Yan Ru Meng becoming ML's concubine.   After Xiang Si got married, FL schemed to get Yan Ru Meng to enter the palace.  Hao Momo and FL had an angry spat.  Hao Momo fainted.  FL thought ML would be angry with her but he did not.  ML only warned FL that Yan Ru Meng will take revenge if she becomes a royal consort.  Yan Ru Meng caught the Emperor's attention and get appointed as a consort.
Hao Momo fell sick.  Hao Momo has another argument with FL.  She spit out the medication fed by FL.  FL who likes clean and started to get rashes.  ML took the opportunity to send FL away from the city claiming FL has fallen sick.  As expected, Yan Ru Meng instigated the Emperor to get ML to divorce FL but rejected by ML.
After a few months, ML managed to settle the problem with Yan Ru Meng and brought FL back to the city.  ML and FL went to the royal villa for summer holiday.   Yan Ru Meng hinted to FL that she was having an affair with ML.  FL got upset and told ML.  One afternoon, FL saw Yan Ru Meng having an affair with 6th Prince, Chu Yu in the garden.  The next day, FL shocked to hear that Yan Ru Meng died due to excessive blood loss.
The Emperor asked ML to investigate Yan Ru Meng's death.  Yan Ru Meng was found pregnant.  ML used the chance to hint to the Emperor that his mother's death could be murder.  When the Emperor was young, he met ML's mother outside the palace and fell in love with her.  ML's maternal grandfather sent his daughter to the palace to exchange for status and wealth.  ML's mother got separated from her sweet heart.  ML's mother hated the palace and the Emperor.  The Emperor forced ML's mother to conceive his child.  ML's mother died due to excessive bleeding during childbirth.  All the clues lead to ML's mother killing herself.  The Emperor got angry because he gave all his love to ML's mother but his love was not returned.  The Emperor hated ML's mother and ML because of that.  Xiang Consort was found guilty murdering Yan Ru Meng.  The Emperor sentenced Xiang Consort with death punishment.     
FL hinted to ML to get support from Chang Princess but it got ML angry.  ML investigated FL's past and thought that she loves Gu Ting Yi.
ML told FL his plan.  ML said his brother has lost patience and will take action very soon.  FL found out that Chang Princess was going to support Chu Yu.  FL sent away the spy that she installed at Chang Princess' house.   This prompted Chang Princess to suspect that her plans already been found out.  ML also found out what FL did and her secret meeting with Gu Ting Yi.
FL wanted to explain why she insisted ML to work with Chang Princess.  ML told FL that he will never work with Chang Princess or forgive Chang Princess.  ML said it was Chang Princess who caused the tragedy between his mother, his mother's sweetheart and the Emperor.  ML told FL that Chang Princess fell in love with his mother's sweet heart and separated them.   In the end, Chang Princess did not get to marry the man that she loves.  Chang Princess was the real mastermind behind ML mother's death.  ML confessed that he pushed FL into the pond when she was Chang Princess' daughter.  ML said he regretted what he did hence he saved her after that.  Ever since that incident, FL has turned into a sickly which lead to her early death.   FL scared to tell ML about her rebirth after what ML told her.  ML gave FL two choices.  It was either to stand by him or oppose him.  In order to protect the Rong and the Gu families, FL agreed to help ML.
The Emperor passed away and ML ascended the throne.  Chu Yu and Chang Princess got punished.  Chang Princess' title got taken away and became a commoner.  Gu Xi Yan divorced Chang Princess.  Chang Princess got punished with death sentence.
FL became Empress.  But her relationship with ML has turned sour.  FL could not forgive ML for what he did to Chang Princess.  FL fainted and went into coma a few times.  FL saw her own soul left her body and how ML took care of her.  On the day that Hao Momo passed away, FL's soul met Hao Momo's soul.  Hao Momo scolded FL for being heartless and show her flashes of the past how ML got bullied and abused by 5th prince, 6th Prince and Chang Princess when he was a kid.  When FL woke up, she felt very bad and understood why ML could not forgive Chang Princess.  FL blamed herself but refused to make up with ML.  FL ignored ML for 4 years.
One day, Zhen Luan Niang, who FL saved before came to ask her for permission to go serve ML.  FL did not object.  FL's soul left her body when she was sleeping.  FL saw ML rejected Zhen Luan Niang.   ML did not want to end up like his father.  ML told FL that he will send her to Gu Ting Yi.  FL asked ML to send her to the temple instead.  At the temple, FL found out Chang Princess did not die.  FL kneeled down and begged for forgiveness from Chang Princess.  FL told Chang Princess that she is her daughter but Chang Princess refused to believe her. 
The next day, FL returned to the palace.  FL wants to make amends for what she did to ML for the past 4 years.  FL asked ML to make up but ML did not answer her.  FL told ML that she will prove to him that she loves him.   ML asked FL why she comes back to him.  FL decided to tell the truth.  ML angry with FL for not telling him earlier and yet relieved that he did not kill Chang Princess.  Otherwise he will lose the opportunity to get back with FL.
FL told ML that she died when she was 20 years old and her spirit wandered around the palace watching ML until he entered monkshood.  ML believed what FL told him. 
ML and FL reconciled.  FL fainted during her child labour and her soul left her body.  FL saw flashes of the past life that the real Rong Xuan gave birth to ML's only son.  ML was cruel at that time and chose to save the baby instead of the mother.  But in this life, ML has changed and learned to love.